Fri, December 26, 2014
Counting Down Lucas Entertainment's Best Content Featuring Muscle Bears | Scenes 04 – 03
Counting down Lucas Entertainment's best content featuring muscle bears…
No, Lucas Entertainment is not officially known for casting muscle/daddy bears in its movies and scenes, but there are some standout performers who have and currently rock the muscle bear world with their looks, cocks, and personas. Why highlight this now? Well, Lucas Entertainment has recently worked with gay porn stars like Alessio Romero, Rocco Steele, Drew Sumrok, and others — and this caused me to wonder… What are some of the best muscle/daddy bear scenes released by Lucas Entertainment?
Here are scenes four and three:
04.) Arpad Miklos And Justin Cruise | Hooking Up
When this scene was first filmed it was obvious it was going to fulfill any intergenerational needs the fans of Lucas Entertainment and gay porn in general had. The best part of this pairing is before the actual sex begins: after Arpad and Justin Cruise's meet-up in the city, they head back to a more private space to have sex — and it's here where they begin kissing, touching, and undressing. Arpad strips down to a pair of black-and-red briefs — and when you see him it's clear he is a work of art. And from there, he shows Justin Cruise who is boss.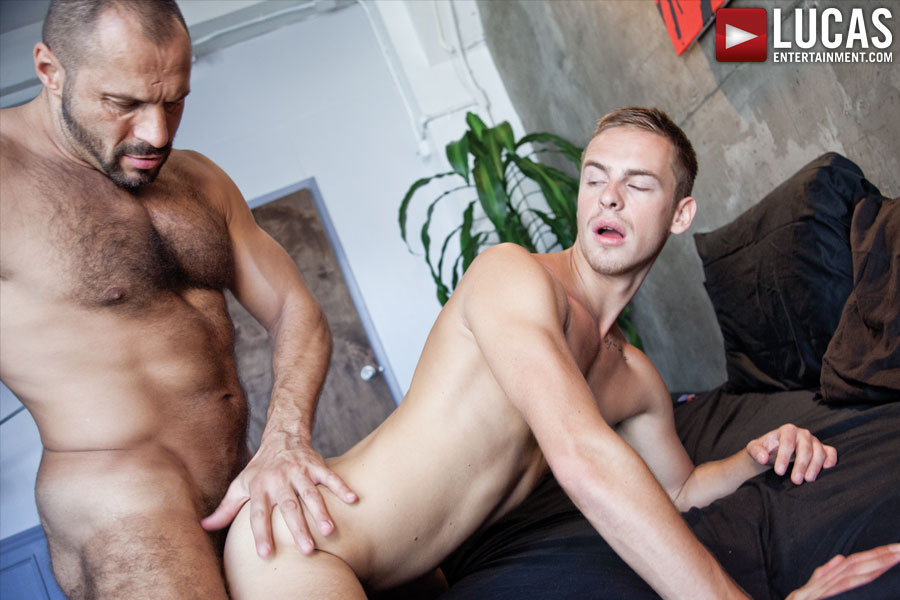 03. Junior Stellano & Rafael Carreras | Passion
 The muscle bear Junior Stellano and the lean Latin hunk Rafael Carreras are brought together in Passion, and this is honestly one of my all-time favorite Lucas Entertainment scenes. Why? Well, Rafael is just such an awesome giver and Junior is just such an awesome taker. Does anymore really need to be said? And while Rafael clearly doesn't prefer being on the bottom, he certainly lets the situation take its own course with Junior's cock up his ass! But when Rafael is using his huge cock to plunder Junior, well, the scene is truly a winner.