Fri, November 05, 2021
Gay Cuckolds & Gay Cuckolding | Exploring A Fetish
Sir Peter had passing idea of what cuckoldry was when he was cast in Lucas Entertainment's Cuckolds and Alpha Cocks during the studio's May 2021 production in Puerto Vallarta, Mexico. 
But despite having heard of cuckoldry, he never tried it out in his personal life. If anything, he thought it was something heterosexual couples dabbled in to spice up their tired marriages. The Portuguese adult model and actor never assumed the fetish had a foothold in gay culture. 
"Somehow, in my mind, it was a very straight fetish. I was wrong," Sir Peter said. 
Something else Sir Peter didn't assume was how much he'd enjoy acting out a cuckolding scenario in a gay porn movie. But during the shoot he found himself excited by playing the role of the dominant insertive partner, commonly referred to as the "bull."
"It came very natural to me and I enjoyed it a lot! I think it gave me more power and confidence," Sir Peter continued to say.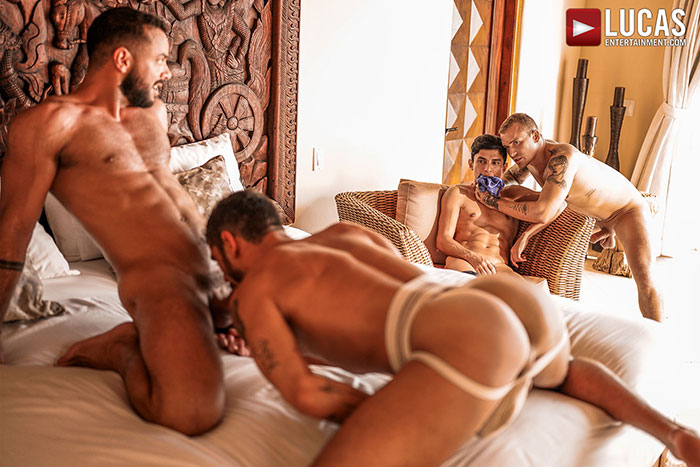 After filming wrapped on his scene—he costarred alongside Valentin Amour, Isaac X, and Joaquin Santana—Sir Peter started to understand why some gay guys were introducing cuckoldry into their relationships. 
"It's a game of submission, and it's sometimes degrading. And, at the same time, it's also hot and very exciting," he said.
Cuckoldry Goes Gay
Sir Peter's initial assumption was not wrong.
Cuckoldry has long since been a straight person's fetish, and that's only started to shift in recent years.
For the uninitiated, the basics of cuckoldry play out something like this:
A straight couple invites a third person (the bull) into the relationship to have sex with the female partner (typically called the "hot wife") while the male partner (the cuckold) watches. 
The bull is usually well-endowed (more so than the cuckold, anyway), asserts an alpha presence, and is sometimes a different ethnicity than the original couple. 
Sometimes the cuckold is permitted to masturbate during the hot wife and bull's coupling, and other times not. He might be restrained, sent from the room entirely, or permitted to watch only while wearing a chastity device. Emphasis is placed on the pleasure of the hot wife, and it is the bull's job to deliver said pleasure while the cuckold remains on the outskirts of the action. 
Often times there is an element of humiliation involved in cuckoldry. Name-calling and ridicule are in abundant supply when the domination element is heavy-handed. But it's also not uncommon for a cuckolding relationship to have a softer touch. Yes, a clear power dynamic is established. But there's an emotional reciprocity throughout the experience.
But what was once the territory of the straight bedroom has now spilled over into the gay community. It's no secret that homosexual relationships have always been more "open" than heterosexual ones (or, at least, gay couples fess up to it more). But cuckolding is far more involved than a humdrum threesome or a permissible fling when the ball-and-chain is away for the weekend.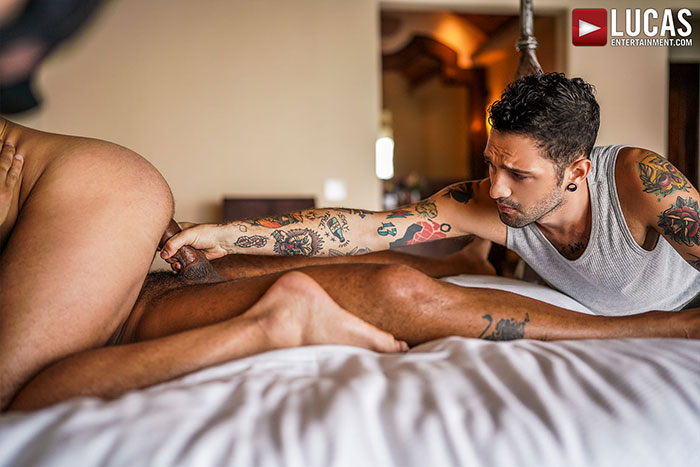 Igor Lucios, who played the role of a gay cuckold in the fourth scene of Cuckolds and Alpha Cocks, has given that question some thought himself. Igor got into the role of a gay cuckold onscreen and had fun with it, despite it not being an activity he'd introduce into his personal life. 
Through the action of the scene (he performed with Isaac X and Viktor Rom) he's gotten a "deeper perspective" on what goes on within a cuckolding relationship.
"The cuckold participates and interacts in some way. As in the case of my scene, I watched until my boyfriend allowed me to interact," Igor said. "I've read reports of men who reach orgasm without touching their dick, from the pleasure of being humiliated. I found it incredibly fascinating."
Taboos Comes Full Circle
Increased cuckoldry among gay men prompted sex columnist Dan Savage, Dr. Justin Lehmiller, and Dr. David Ley to conduct the first-ever scholarly study into the phenomena. The resulting paper, "The Psychology of Gay Men's Cuckolding Fantasies," was published in 2018.
When interviewed on the subject by CNN, Dan Savage shared his belief that cuckolding started to gain popularity in the gay community around the time same-sex marriage was legalized.
Andre Donovan, a Lucas Entertainment model and one of the actors in the 2018 gay cuckold movie, Fuck My Boyfriend, shares a similar sentiment with Dan Savage. He believes that the more gay men and relationships are normalized in the mainstream, so too will new gay kinks and taboos come full circle and settle into same-sex domesticity.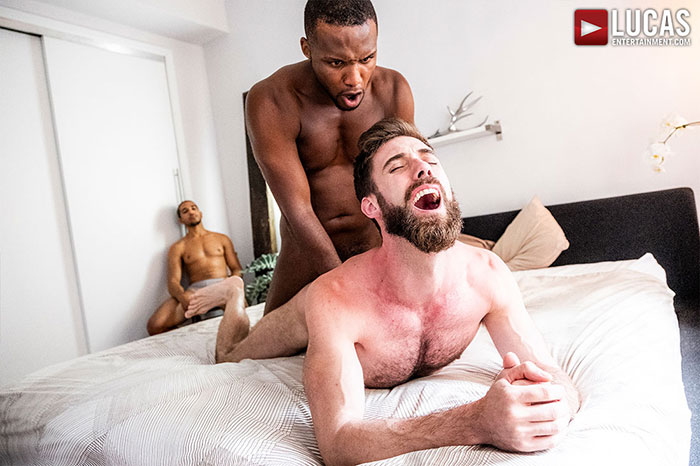 "I think people like things that are sort of taboo when it comes to sex. I also think a lot of gay men like to create gay versions of heteronormativity," Andre said.
And while Andre Donovan's observations are correct, there are some differences in how gay couples engage in cuckolding fantasies versus straight couples. 
Writer C. Brian Smith broke down Savage, Lehmiller, and Ley's study in his MEL magazine feature on Medium, "The Most Interesting Takeaways from the First-Ever Study on Gay Cuckolds."
Some of the key insights Smith teased out include:
— Gay cuckolds fetishize the "Sperm Competition Theory," which is the fear that men are loosing out on genetic dominance with their partner to someone superior, even in a gay non-procreative relationship.

— Heterosexual cuckolding usually introduces a racial element into sex, while homosexual cuckolding tends to lean more into age play.

— The personality styles and personal psychologies among cuckoldry participants vary depending on the role being taken on throughout the course of the relationship.
Not All Relationships Are Created Equal
Sometimes porn actors really are just actors, and cuckoldry is simply what the job calls for. 
This was Ricky Hard's experience. 
Ricky Hard played the role of the "hot guy" (my term, as far as I know) in the third scene of Cuckolds and Alpha Cocks. The two bulls were Andrey Vic and Charlie Cherry, and Alfonso Osnaya played the cuckold. But despite appearing in the movie, cuckoldry isn't a lifestyle Ricky would want to involve himself with. 
"Cuckolding doesn't appeal to me in any way. I am a very jealous guy and I don't think I could watch my boyfriend getting fucked/fucking with another, unless I am joining in," Ricky said. "I like being submissive, as many viewers might know, but I think I have a limit on the humiliation."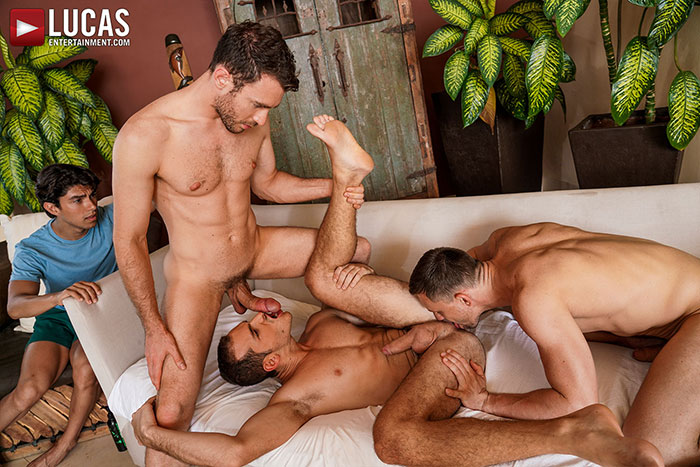 It's safe to assume that the majority of gay men in open relationships empathize with Ricky Hard's sentiment. Still, that hardly erases the multitude of everyday gay cuckolds. 
The subreddit r/GayCuckold currently boasts 30,000 subscribers (the heterosexual r/Cuckold subreddit has over 700,000 subscribers). The r/CuckoldPsychology subreddit is 45,000 subscribers strong. 
A simple Pornhub search of "cuckold" nets 31,000 video results. The gay side of the site lists less than 800 titles. 
Lucas Entertainment is one of the few professional adult entertainment studios producing cuckold-themed gay content. Aside from the recent Cuckolds and Alpha Cocks title, the studio's "Gay Cuckolds" category lists seven titles, including A Cuckold's Submission, Fuck N Cuck, and Bareback Cuckolds. And the studio plans on making more gay cuckold films due to category's increasing popularity.
Cuckolding In The Mainstream
The right-wing insult "cuck" popularized during Donald Trump's presidential campaign and subsequent four years in the White House is probably the current epitome of cuckoldry in the public consciousness, whether accurate or not. 
Riding on the conservative popularity, Rob Lambert directed the 2019 thriller, Cuck.
Relatively recent allegations surfaced concerning the predilections of Jerry Falwell Jr. cuckolding himself in a corner while his wife had sex with the pool boy.
Cuckoldry has separated from its shame-ridden Medieval origins and gone mainstream. Reflecting this are the many write-ups published by media outlets like the Washington Post, ABC News, CNN, and Vice.
Sir Peter understands the interest, and it's all about letting go of inhibition in the bedroom.
"A fetish will always allow you to do and say things that you normally wouldn't do. And with cuckolding in particular… add in some submission, humiliation, and hardcore sex. With all of that, I think cuckolding is going to become even more popular," Sir Peter concluded.