Mon, October 27, 2014
Tomas Brand's Six Best Gay Sex Scenes On Lucas Entertainment | Scenes 06 – 05
Tomas Brand has never been in a gay porn sex scene with Michael Lucas yet, but that will change this Friday. The coming release made me reflect on just how hot Tomas Brand is, and all of the great scenes he's already filmed for Lucas Entertainment, pre and post his bareback content.  He's been in 10 to date, and these are personally my favorite six…
06.) Tomas Brand And Dean Monroe | British Pounds
"British Pounds" was the first movie Lucas Entertainment filmed in England, and it was also the perfect opportunity to work with both Tomas Brand and Dean Monroe (again). While he is versatile, a Tomas Brand sex scene usually stands out when he's a top — a total top. Tomas is one of the sweetest and most professional men in the gay porn industry, but when you look at him he appears quite the rough character and, dare I say, a bit brutal — two erection-inducing ingredients for a power top. In this scene Tomas is a mechanic, and Dean Monroe is suffering from car troubles. Poor guy, but he quickly doesn't care about his faulty engine when he's wearing his jaw out sucking on Tomas' hard uncut cock, and that's before his hole gets pounded. But the best part? The white tank top Tomas Brand wears throughout the entire sex scene — a personal fetish of mine.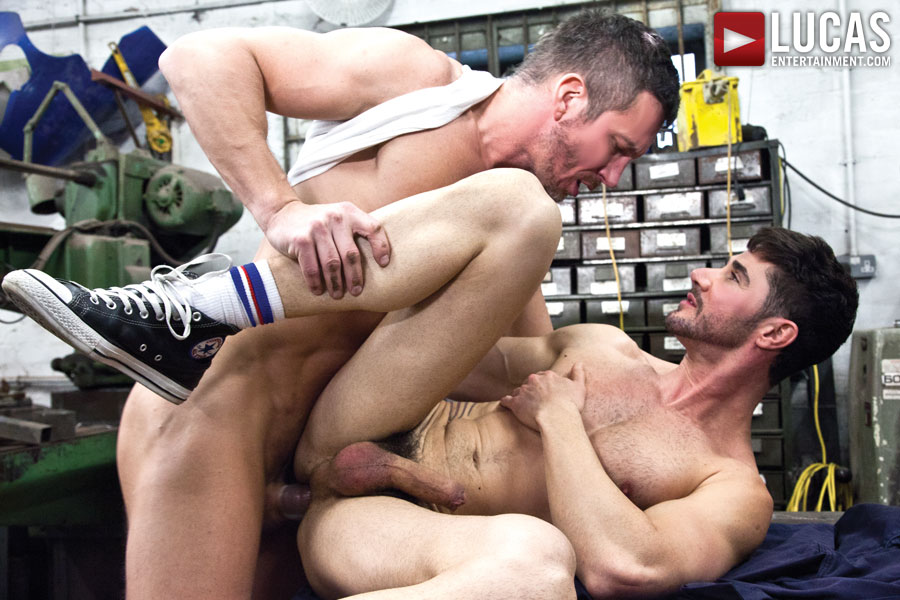 05.) Tomas Brand And Scott Carter | Bangers And Ass
Remember how I said in the previous Tomas Brand sex scene entry that he looked a bit brutal? Well, that is a trait he carries over throughout a lot of his scenes, and this one is no different. But Scott Carter looks like he can take him, right? Well, looks like he can yes, but he'd never want to. The rougher the top, the happier Scott is — and thus a great gay porn scene pairing is born. Scott Carter loves getting treated like a needy, dick-worshipping bottom, and that's exactly the experience Tomas Brand delivers. Is anyone else envious?