Tue, October 28, 2014
Tomas Brand's Six Best Gay Sex Scenes On Lucas Entertainment | Scenes 04 – 03
Continuing Tomas Brand's six best gay sex scenes on Lucas Entertainment: Tomas Brand has never been in a gay porn sex scene with Michael Lucas yet, but that will change this Friday. The coming release made me reflect on just how hot Tomas Brand is, and all of the great scenes he's already filmed for Lucas Entertainment, pre and post his bareback content.  He's been in 12 to date, and these are four and three of my favorite six…
04.) Tomas Brand, Fabio Lopez, And Valentino Medici | Adam Killian's Raw Wet Dream
Again, this is all about the men the production department cast with Tomas Brand in this sex scene. But in particular my eye is on Fabio Lopez — this kid is a firecracker, because he's always horny and ready to fuck. Tomas Brand's skill as a lover isn't lost on Fabio, though, as they take their time with one another. But who is kidding: when Fabio takes a seat on Tomas' fat uncut cock, it's the moment everyone was waiting for. Add to the mix another sex daddy like Valentino Medici — who is so, so, so tall, dark, and handsome — and Fabio Lopez is in for a fun time!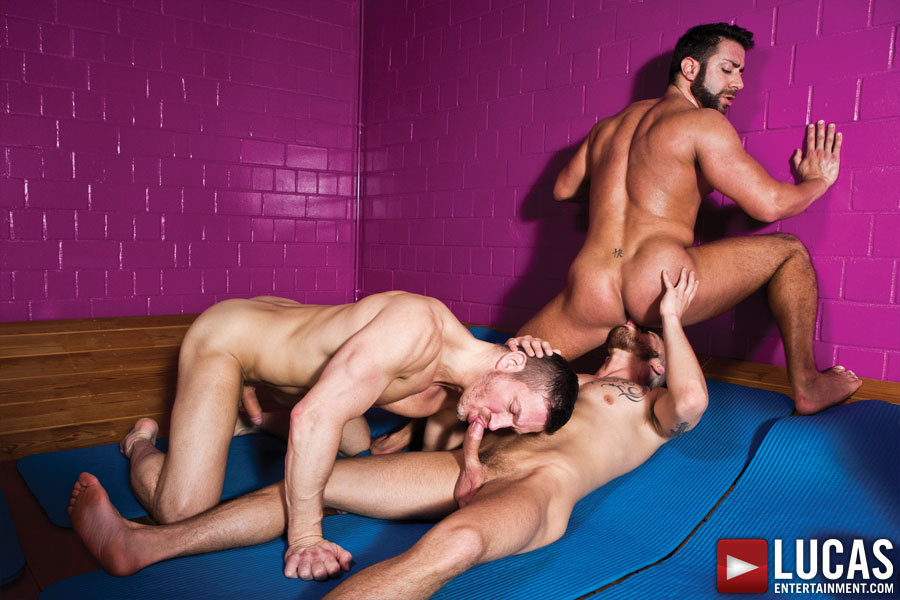 03.) Tomas Brand, Fernando Torres, Fabio Lopez, Nick North, Joey Pele, Misha Dante, And Mark Sanz | BB PARTY @ MY PLACE
Not to break my streak, but this is an instance where I enjoy seeing a Tomas Brand sex scene with someone else on top, and that's Fabio Lopez. He rode Tomas prior, and now he has the studly daddy on his back and legs up in the air. And it gets better, because they're surrounded by an orgy of hot guys having gay bareback sex all around, especially the then introduction of Nick North, another guy I hope to see more of in future productions.