Thu, August 14, 2014
The Five Best Gay Bareback Sex Scenes from Lucas Entertainment
It will be a year on September 06 since Lucas Entertainment released its first gay bareback sex scene on the studio's main website, and since we've ben diversifying how we present our condom-less content to our members.
Because we've already produced a large quantity of bareback scenes and movies, there are a few I'd like to highlight the five scenes that I think stand out…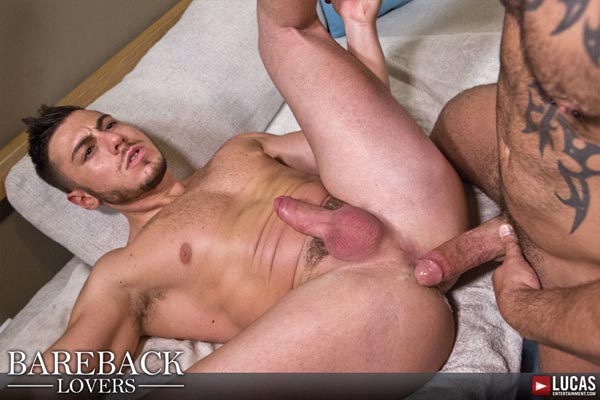 05.) Edji Da Silva and Timo Dylan – Bareback Lovers
For a long time running Edji Da Silva was one of my favorite Lucas Entertainment exclusive models, and to be honest, he still is. Edji has since taken a break from performing, but his scene with real-life boyfriend Timo Dylan stands out for the chemistry that we see sizzling between these two performers. This was Timo's first time having gay bareback sex in front of the Lucas Entertainment camera, but you couldn't tell because this guy knows how to fuck for some awesome footage. Edji Da Silva in his own right is one of my all time favorite tops, and I wasn't too happy when he started up with the versatility, but for some reason it truly works here. I suppose because the affection between Edji and Timo emanates reality — so he can take a dick up the ass for that reason!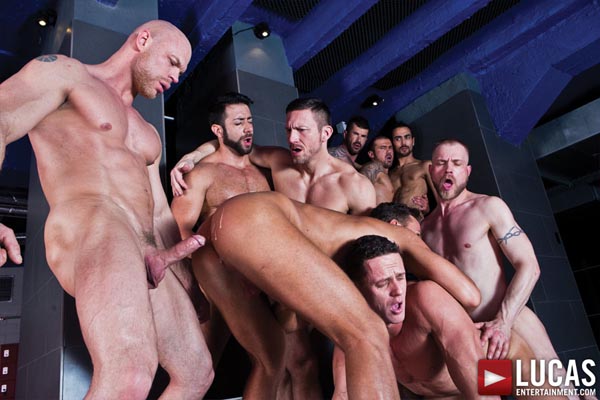 04.) Adam Killian's Orgy – Adam Killian's Raw Wet Dream
This is a power list if I've ever seen one: Adam Killian, Marco Milan, Tomas Brand, Fostter Riviera, Valentino Medici, Ivan Gregory, Lars Svenson, Logan Moore, and Marco Sessions. This scene operates as the climax of Adam Killian's debut bareback movie for Lucas Entertainment, "Adam Killian's Raw Wet Dream." There's so much going on in this scene it can be hard to keep up with. But there's plenty of cock sucking, bareback anal sex, raw double penetration, and cum shots to enjoy.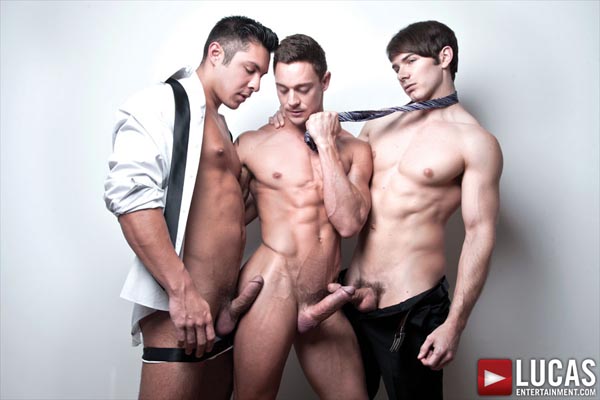 03.) Michael Lachlan, Seth Treston, and Addison Graham – Unsuited Raw
I miss Michael Lachlan every day I show up at work — I miss him so much my head hurts. He filmed a few gay bareback sex scenes for us before deciding to hang up his very short lived gay porn career. This man is a work of art, and I want you to consider the three pinnacle attributes: his beautiful face, artfully sculpted body, and deliciously enticing cock. This scene Michael performs with Seth Treston and Addison Graham is one of the best he's starred in. These guys might as well get along as best friends in real like who enjoy some afternoon delight on the side here and there. But Michael Lachlan is the real star of the show.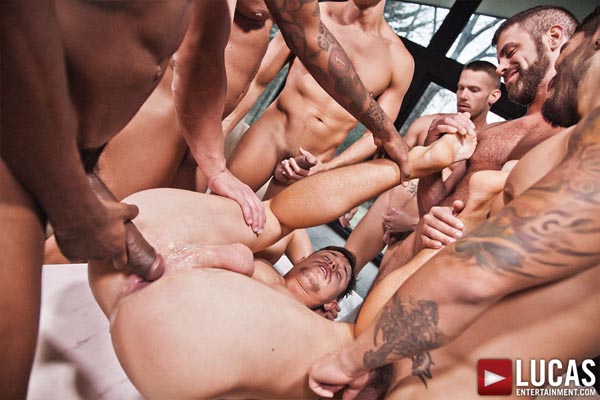 02.) Jed Athens' Orgy – Bareback Sex Fest
Here's another climatic orgy that I couldn't keep away from. Well, actually, I don't know if I should call this an orgy or a gang-bang, because Jed Athens is clearly a bottom cum-dump piggy in this final scene from the Bareback Sex Fest movie. Jed handles a lot of cock in this scene, and for this being the first bareback orgy/gang-bang that Lucas Entertainment has produced, it's certainly worth all of the attention it has received. Why wouldn't it when these guys are in it: Rafael Carreras, Draven Torres, Marcus Isaacs, Shane Frost, Fabio Stallone, and Hot Rod!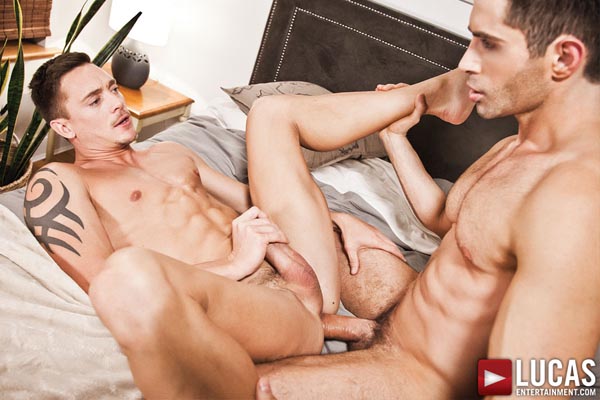 01.) Michael Lucas and Michael Lachlan – Michael Lucas' Bareback Premiere
New York City's premiere porn star's gay bareback sex debut is certainly worth the number one slot, especially when it's for his own company. Michael Lucas hand selected Michael Lachlan to be his raw bottom for his own first condom-less scene, making this not only a debut for Michael Lucas, but for Lachlan as well. And it's with this scene that the production department knew they had to sign Lachlan as an exclusive model as soon as possible!