Wed, December 24, 2014
Counting Down Lucas Entertainment's Best Content Featuring Muscle Bears | Scenes 06 – 05
Counting down Lucas Entertainment's best content featuring muscle bears…
No, Lucas Entertainment is not officially known for casting muscle/daddy bears in its movies and scenes, but there are some standout performers who have and currently rock the muscle bear world with their looks, cocks, and personas. Why highlight this now? Well, Lucas Entertainment has recently worked with gay porn stars like Alessio Romero, Rocco Steele, Drew Sumrok, and others — and this caused me to wonder… What are some of the best muscle/daddy bear scenes released by Lucas Entertainment?
Here are scenes six and five:
06.) Arpad Miklos & Zack Randall | Gigolo
Arpad Miklos is once again in day-old business attire, but this time the scenario is even better than before. He hires a male prostitute to help him take off some of the stress of international travel. It's a reach, I know — but it also plays in a scenario of power: Arpad is the hulking and muscular daddy-bear, and the callboy (played by gay porn star Zack Randall) is the submissive twink who is being paid to give Arpad what he needs. Bears with twinks in general are a hot watch due to this dynamic, and the classic scene from Gigolo definitely plays on this.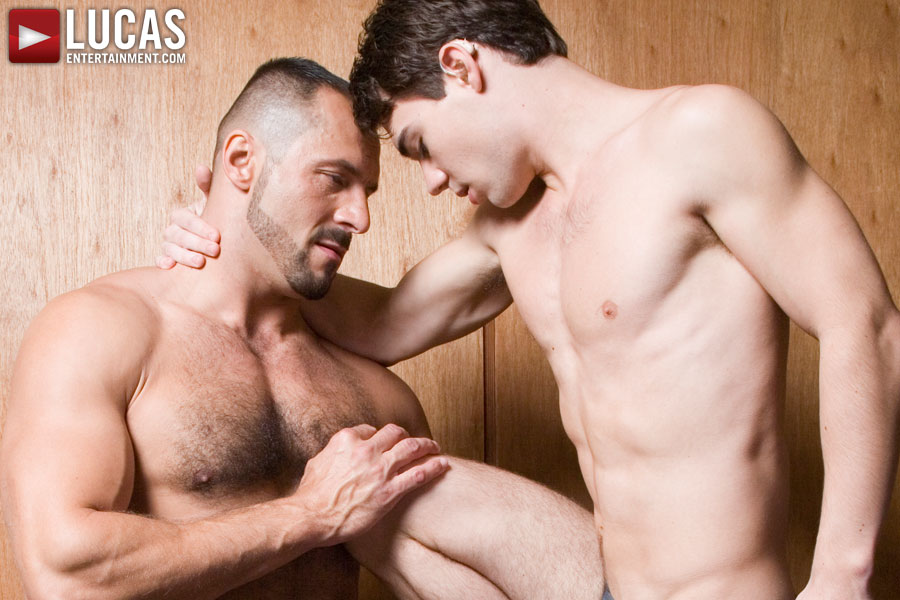 05.) Spencer Reed & Junior Stellano | Heat Wave
I love muscle bears in brief underwear — there's something farcically sexy about the way it looks. But hey: if it works it works. Junior Stellano and Spencer Reed were paired up back in the original Heat Wave and both were in scarce bathing suits — when they're bumping and grinding in them out in public it makes for some awesome foreplay before the encounter transitions to an interior setting so the guys can get it on with what they're best at. Though Junior Stellano has the look of a no-bullshit top, this scene was filmed before Spencer Reed tried his ass at bottoming, so Junior was the complete receiver from Spencer… as it should be!