Mon, December 29, 2014
Counting Down Lucas Entertainment's Best Content Featuring Muscle Bears | Scenes 02 – 01
Counting down Lucas Entertainment's best content featuring muscle bears…
No, Lucas Entertainment is not officially known for casting muscle/daddy bears in its movies and scenes, but there are some standout performers who have and currently rock the muscle bear world with their looks, cocks, and personas. Why highlight this now? Well, Lucas Entertainment has recently worked with gay porn stars like Alessio Romero, Rocco Steele, Drew Sumrok, and others — and this caused me to wonder… What are some of the best muscle/daddy bear scenes released by Lucas Entertainment?
Here are scenes two and the winning number one:
02: Rocco Steele & Nigel Banks
Rocco Steele is one of the biggest gay porn stars in the industry, and he's one of the main reasons why this blogging idea came up. For the record, Rocco is an incredibly nice and polite guy in person, and that's a huge turn-on — he will show you a good time before heading home and splitting you in two with ridiculously large (and work-of-art beautiful) penis. Seriously: his dick looks so smooth it could have been sculpted from flesh-toned marble. There will be more coming from Rocco Steele at Lucas Entertainment in 2015, but for now this water sports scene with Nigel Banks highlights Rocco well. Yes, it's brief, and I know, there's no fucking (though I'd love to see Nigel take it from Rocco) but this is a perfect example of quality over quantity. Nigel has an adorable smile, and you can tell Rocco melts a bit whenever Nigel grins after getting a face-full of daddy piss. And Nigel gives the oral attention a top like Rocco deserves, providing a two-fold affect. We get to see how cute and resourceful Nigel is with his mouth, and we get to see just how big and beautiful Rocco Steele's cock is. Talk about a double win!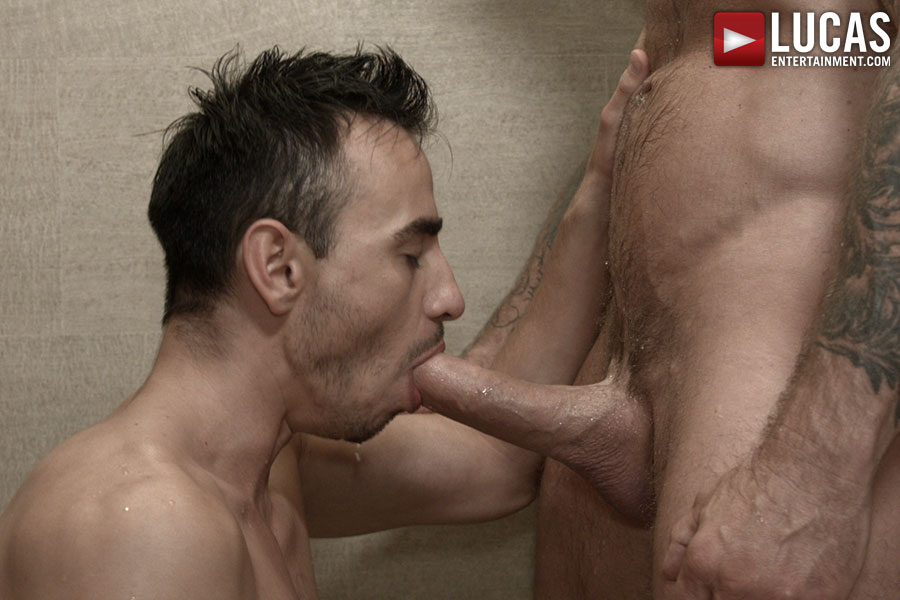 01.) Alessio Romero, Jimmie Slater, BJ Rhubarb, & Adam Isaacs | Lucas Knight's Shooting Raw
This scene is the primary reason why the topic at hand came to be. While it's a foursome also featuring Adam Isaacs and BJ Rhubarb, all of my attention was personally focused on Alessio Romero and Jimmie Slater. From Jimmie's first appearance in an earlier scene from the same movie (he was paired with Nigel Banks) I was a fan, but seeing him with Alessio took it to a whole new level. For the sake of argument, I'll throw Jimmie in the "otter" category, and watching otter Jimmie fuck muscle-bear Alessio was incredible. But then again, watching Alessio grab Jimmie by the ankles and pound him was just as good — I don't even know why portion I liked more. I hope to see these two together soon.