Jan 27, 2015 at 1:50 PM in Gay Porn Lists by Love
If not officially, Rafael Carreras has always been one of the first Lucas Entertainment exclusive models in spirit. He's worked with the studio for many years, and like gay porn wine (as much as I hate using bad clichés in writing like this) he's only getting better and better. Why else would he have been given his own compilation, "The Rafael Carreras Collection"?
For fans of Rafael Carreras, you'll be seeing more of him in the coming months. He's been performing in gay bareback porn prior to his Lucas Entertainment return, but it's with us that he always offers up his best sexual encounters. What can I say: I'm excitedly anticipating Rafael's upcoming bareback content, which caused me to think: what about his past performances? What are his best?
I decided to take a look through the Rafael Carreras archive to count down the uncut Cuban hunk's ten best sex scenes with Lucas Entertainment.
Here are scenes 06 and 05…
06.) Rafael Carreras, Arnaud Chagall, And Nikko Brave | Auditions 40: Rafael Carreras' Uncut Canada
The first of two gay sex threesomes in this segment: I personally find it hot when Rafael Carreras is teamed up with guys younger than him. He's the type of performer who postures himself as teaching by example — active example in this case. While there's some flip-fucking between Arnaud Chagall and Nikko Brave, Rafael still remains in charge and on top in this bright and lively scene from "Auditions 40: Rafael Carreras' Uncut Canada."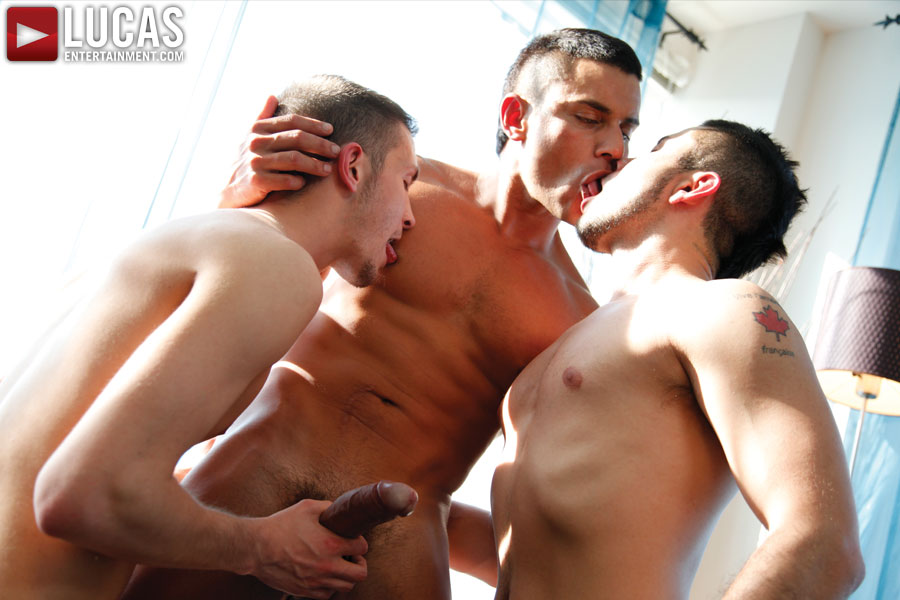 05.) Rafael Carreras, Vito Gallo, And Angelo Marconi | Gentlemen 09: Closing The Deal
How could this scene not make it onto the list? It features the legendary Vito Gallo, who quickly built a reputation as a mega-hung Italian top that quickly spread throughout the gay porn industry (not to mention one with unparalleled good looks). Vito and the equally hung Rafael Carreras are tossed into a business setting, and they're given the sacrificial lamb of Angelo Marconi — a muscle bottom who deserves an award for the anal thrashing he too in this Lucas Entertainment sex scene. It's still a wonder that he walked off set with complete composure. For that alone he deserved an award.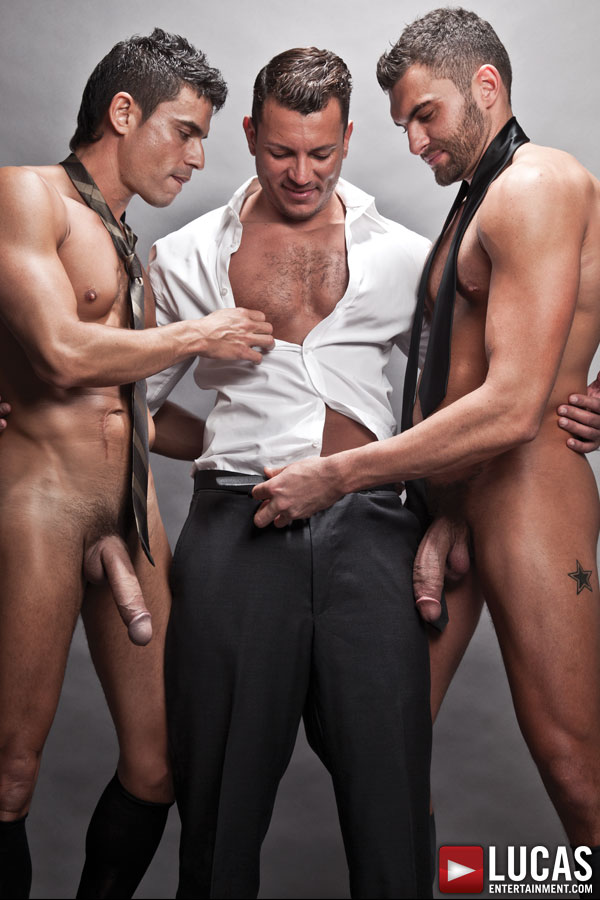 Rafael Carreras' 10 Best Lucas Entertainment Sex Scenes | Scenes 06 - 05