Counting Down Lucas Entertainment's Best Content Featuring Muscle Bears | Scenes 08 – 07
Dec 23, 2014 at 10:00 PM in Gay Porn Lists by Love
Counting down Lucas Entertainment's best content featuring muscle bears…
No, Lucas Entertainment is not officially known for casting muscle/daddy bears in its movies and scenes, but there are some standout performers who have and currently rock the muscle bear world with their looks, cocks, and personas. Why highlight this now? Well, Lucas Entertainment has recently worked with gay porn stars like Alessio Romero, Rocco Steele, Drew Sumrok, and others — and this caused me to wonder… What are some of the best muscle/daddy bear scenes released by Lucas Entertainment?
Here are scenes eight and seven:
08.) Arpad Miklos & Wilfried Knight | Manhattan Heat
Arpad Miklos in day-old business wear? Who am I to say no to that? He's sweating through his clothes, but fear not — his kind and handsome neighbor Wilfried Knight offers him a beer to help cool off. What follows is a classic Lucas Entertainment gay sex scene between two of the hottest muscle bears to ever star in the industry. Wilfried Knight is a stud unafraid to show off his versatility, and he not only takes Arpad's cock, but he loves every minute of it. What a loss in the deaths of these two men; both were lovely inside and out and are missed.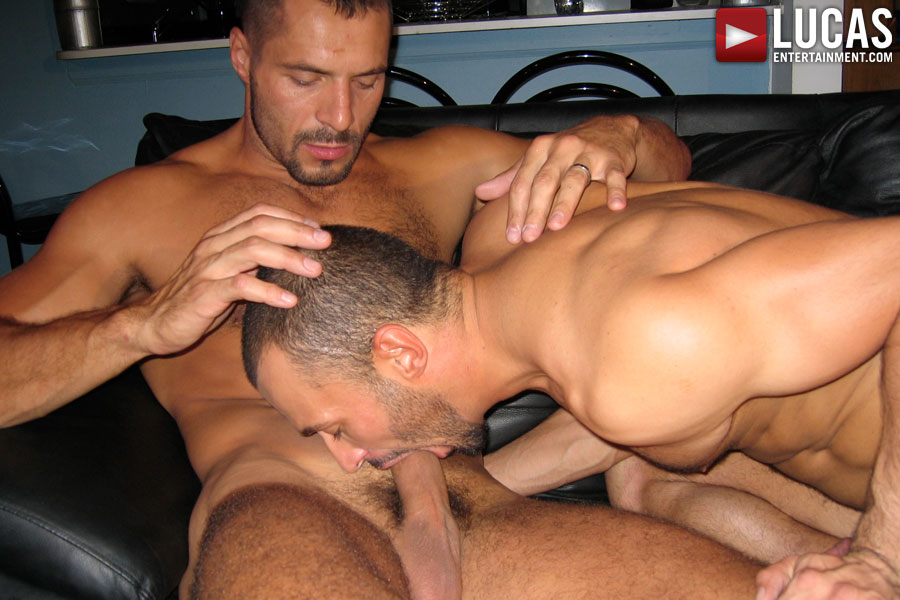 07.) Alessio Romero And Derek Parker | Alessio Romero's Bareback Premiere
Onto some recent content: note that I don't personally require flip-fucking in my porn, but with a daddy bear like Alessio Romero and muscle cub Derek Parker, it makes a solid flip-fuck pairing. Would it have been more than enough for me to watch Alessio fuck the shit out of Derek for 40 minutes? You bet — but I'm not going to complain too much: Yes, I think Derek is a much better bottom who can take it long and well (and with the increase in his ass size, I'm not surprised) but Alessio too hops on his back and gets his hole stimulated. Ah Alessio Romero, how I've missed you.