A Fan of Vito Gallo? Here Are My Top Five Favorite Vito Scenes
Jul 25, 2014 at 12:12 AM in Gay Porn Lists by import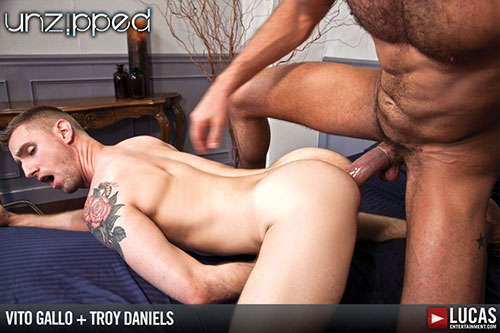 05. Vito Gallo and Troy Daniels
Much like my attitude with Sebastian Young, Vito will always be a top in my heart. Sure, there were times when it was fun to see him take a dick in the ass, but with the near 10 inches of perfection he has between his legs, it's just not right for him to not use it as the weapon it is. Ask Troy Daniels, a handsomely youthful gay porn star that not only knows how to take a monster dick, but loves doing it too. Meeting Troy in person is kind of a surprise, because he's rather tall and broad, almost as much as Vito, so they're equaled in their size. But here Troy submits to Vito in the Lucas Entertainment movie "Unzipped," and it's a trip to watch.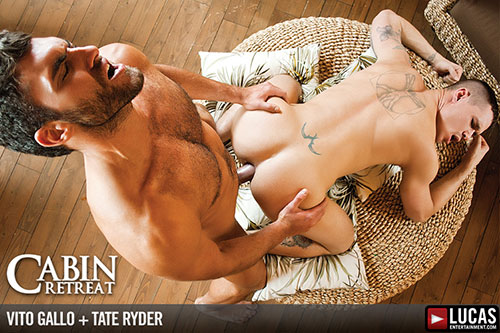 04. Vito Gallo and Tate Ryder
I'm a huge fan of this scene for a couple of reasons: first, I like seeing Vito in rustic setting, and there's no real reason or rationale behind this. It just suits him — maybe everyone just needs to get away from the city. The other is of the same vein of the scene above: Tate Ryder, a hardcore bottom known well in the industry, doing what he does best. Vito buries himself in Tate to the hilt, and the bottom only wants more. Is there a tinge of jealousy on my part, perhaps?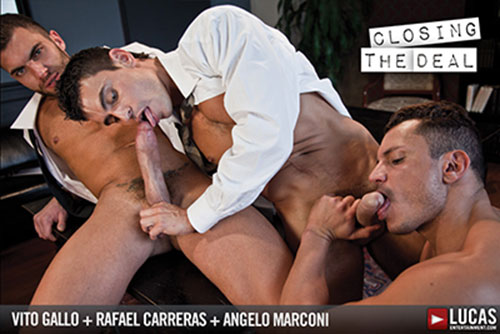 03. Vito Gallo, Rafael Carreras, and Angelo Marconi
When I first started working at the Manhattan office of Lucas Entertainment, there was a concept that floated around the staff: particular models who we'd want to be our "porn-star boyfriends." These inclinations of lust were pure flights of fantasy and not really serious, but fun to compare person to person. And it's here you're going to begin seeing a pattern, because mine was Rafael Carreras. His looks, his body, his heritage, his huge uncut cock — he was (and is) everything a porn star should be. That's why watching him team up with Vito in this scene is nothing short of erection-inducing.  The prize they have their collective eye one: Angelo Marconi, a muscular power bottom who can always take more than his top(s) think(s) he can. A challenge for Vito and Rafael? Accepted! And when I say accepted, I mean hot and intense double-penetration.
02. Vito Gallo and D.O.
Ah, D.O. — he had his gay sex bottoming debut with the studio, if you'll recall. Ever since that initial scene we shot with him, he's been taking dick ever since. D.O. is mighty big in the pants, and while I preferred Vito when he topped, the expressions on his face when D.O. from "Lovers in Paradise" first slipped it in are priceless. That might be a bit S&M of me, but you watch this and tell me you don't find it hot to see Vito barely being able to handle the girth of D.O. — and besides, Vito gives it right back to him. Hey, fair is fair.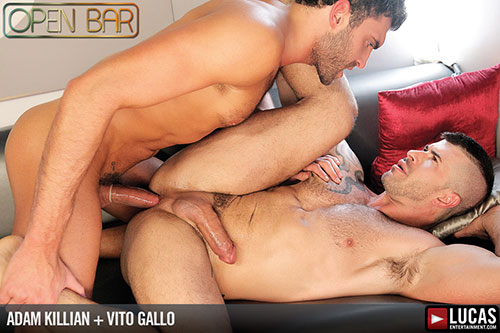 01. Vito Gallo and Adam Killian
"Open Bar" remains one of my favorite movies the studio has released. Granted, it's a smaller title that never received attention like the blockbusters, but it was filmed beautifully and bragged an amazing cast of gay porn stars. Funny, because while this is my favorite Vito scene, it's not so much what Vito is doing but how Adam Killian reacts to him. Adam has taken many a cock in his gay porn career, but how he reacts as he lowers himself onto Vito's monster dick is one of the best genuine reactions I've ever seen in porn. To say it's intense is lame. To say it's a lustful combination of pleasure and pain is beside the point. But to say it's pure Vito Gallo and what he brought to the world of gay porn, well, that's spot on.